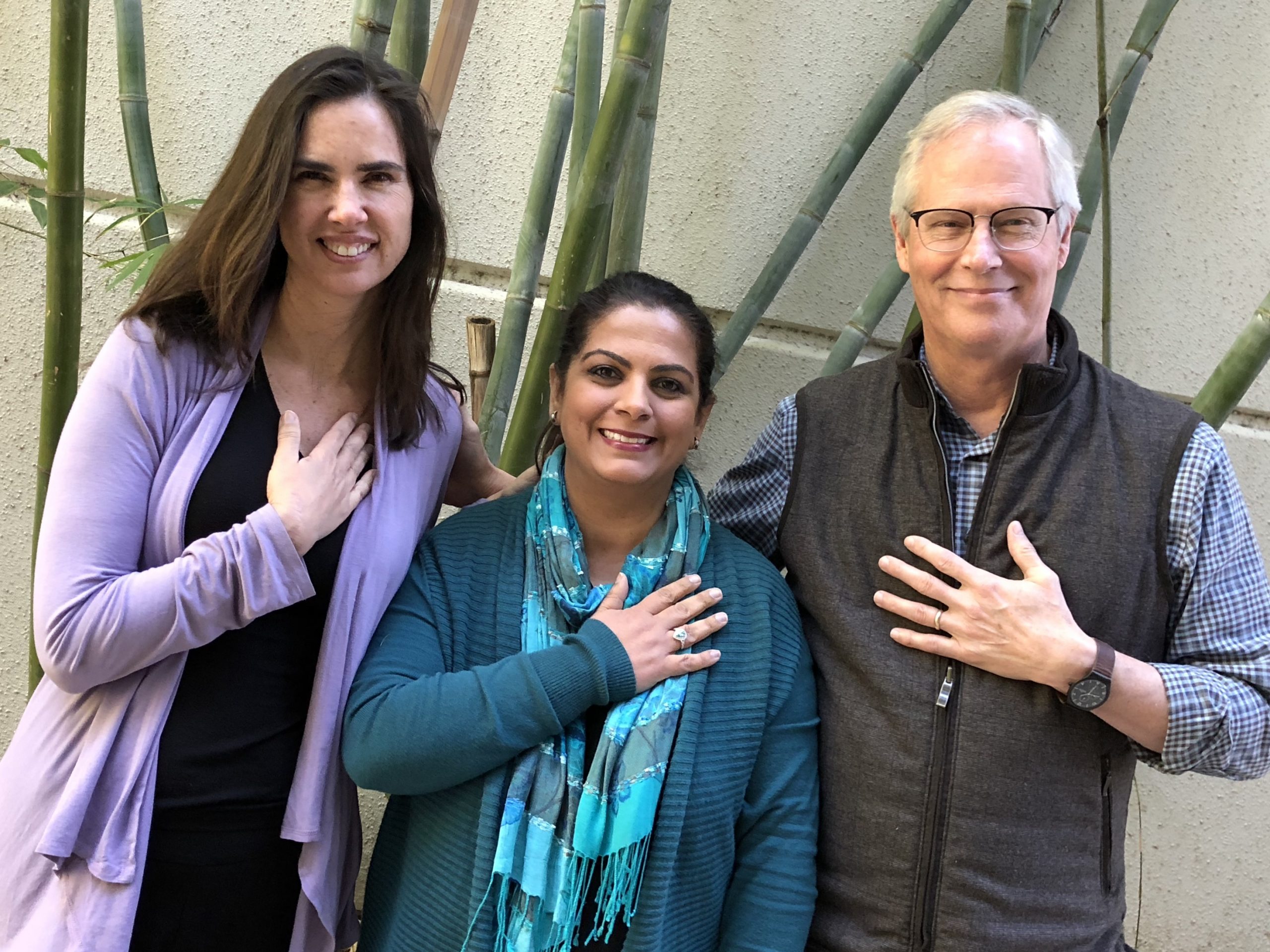 Laila Narsi shown here with MSC co-creators Dr. Kristin Neff and Dr. Chris Germer
Mindful Self-Compassion
Mindful Self-Compassion (MSC) is an empirically-supported, 8 week training program designed to cultivate the skill of self-compassion. Based on the groundbreaking research of Dr. Kristin Neff and the clinical expertise of Dr. Christopher Germer, MSC teaches core principles and practices that enable participants to respond to difficult moments in their lives with kindness, care, and understanding. I was part of the very first teacher training in Mindful Self Compassion through the University of California in San Diego (UCSD) by the creators of the course, Dr. Kristin Neff and Dr. Christopher Germer.
The three key components of self-compassion are self-kindness, a sense of common humanity, and balanced, mindful awareness. Kindness opens our hearts to suffering, so we can give ourselves what we need. Common humanity opens us to our essential interrelatedness, so that we know we aren't alone. Mindfulness opens us to the present moment, so we can accept our experience with greater ease. Together they comprise a state of warm-hearted, connected presence.
Self-compassion provides emotional strength and resilience, allowing us to admit our shortcomings, motivate ourselves with kindness, forgive ourselves when needed, relate wholeheartedly to others, and be more authentically ourselves.
Rapidly expanding research demonstrates that self-compassion is strongly associated with emotional wellbeing, less anxiety, depression and stress, maintenance of healthy habits such as diet and exercise, and satisfying personal relationships. And it's easier than you think.
After participating in this class, you'll be able to:
Practice self-compassion in daily life
Understand the empirically supported benefits of self-compassion
Motivate yourself with kindness rather than criticism
Handle difficult emotions with greater ease
Transform challenging relationships, old and new
Manage caregiver fatigue
Practice the art of savoring and self-appreciation
What to Expect
Class activities include guided meditations, short group discussion, and home practice.
MSC includes 8 weekly sessions.